March 2014 Events at CHAC Gallery
CHAC Gallery Presents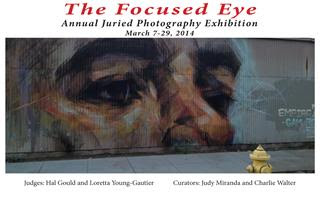 An amazing array of photographic images created and compiled by more than thirty Denver and Colorado photographers will be exhibited from March 7 – 29, 2014.  "The Focused Eye," an annual juried photography exhibition is open to the public and admission is free. Judges for the show are Hal Gould and Loretta Young-Gautier. Curators are Judy Miranda and Charlie Walter.
"The show will feature an amazing, imaginative and beautiful array of work," says curator and photographer Judy Miranda, who will also be showing. "Visitors will be seeing photography in a completely new and fascinating light." Some of the artist/photographers are long-time professionals with decades of work along with national and international recognition. Others will be showing for the first time. "What they all have in common," says Miranda, "are an eye and imagination that that has captured unique images and chosen to share with the world."
"The Focused Eye," will be one of the most elaborate and sophisticated photographic exhibits CHAC has ever showed. "We are expanding the viewing area and dedicating the entire space to this exhibit," says Miranda, a former college educator and California expatriate.
Visitors can get their first look at the exhibit on Friday, March 7th when CHAC hosts an opening reception from 6:00 p.m. to 9:00 p.m. There will be second CHAC reception on March 21st, also from6:00 p.m. to 9:00 p.m. For more information go to www.facebook.com/chac.denver
CHAC Norte Presents
Dominic A. Domingo says, "My artwork is a reflection of me".  With his unique style and ability to work with multiple techniques, he creates his pieces using acrylic paints.  His "Sculpture Paintings" are rich in form, color, composition and texture.
Jaime DelFino says, "Realistically surreal, abstractedly abstract, romantically mad & in love with the beauty that is, 'Life.' Punx not dead, it's just in love."
Beverly Green says, "My style of painting is both realistic and impressionistic."
Rob Yancey aka: El Guero Santero, the name given to him by Stevon Lucero is an award winning, international selling Santero.  El Guero Santero continues to explore La Cultura  and Chicanismo through his art and continues his journey into assimilation.
Suzanne Martino says, "I make an attempt through artistic commentary to look at the ways in which our humanity unfolds.  Sometimes it is with seriousness, sometimes humor and hopefully always with a bit of whimsy and imagination."
Michael Penny, "A generous heart, kind speech and a life of service and compassion are things that renew humanity"-Buddha.
Lisa Diamor Sanchez says, "I am so excited to kick off the New Year at CHAC.  This gallery is a great community to be a part of, we give back at every opportunity and I feel honored to help when I can.  I will be busy traveling around the country to art shows this year but will always call CHAC home and will be exhibiting as much as possible there."
Rebecca Rozales says, "Art is not only a business but a business expression."
Robert Martinez relates this quote to his artwork, "Art must discover and reveal the beauty which prejudice and caricature have overlaid."  Alaine Locke
We thrilled to have Stevon Lucero with a show of all his small works.  He will have some small original oils and some prints, all priced to sell.
Joe Martinez has some new exciting pieces he has been waiting to show!  He is going to open the door for you to explore some of his new photographs; always top notch and thought provoking.
Building Bridges – A Festive Evening Supporting Empowered Women Eliminating Poverty in Guatemala
April 24, 2014 5:30 – 10:00PM
Mile High Station 2027 West Colfax Ave., Denver, CO
Tickets: $80
303.674.0171
"The Building Bridges Gala will feature an authentic Guatemalan marketplace, live music, distinctive live and silent auctions, great friends and Latin-themed cuisine.
Friendship Bridge currently provides Microcredit Plus to more than 20,000 Guatemalan women so they can create more sustainable futures for themselves, their children and their communities.  Most women joining Friendship Bridge earn less than $2 per day.  With your support, we provide small renewable loans and education that allow them to enhance their own small business and learn new skills to create a better life."  http://www.friendshipbridge.org/whatsnew/events/building-bridges/
Oh What a Relief It Is
An Upcoming workshop which will be held at Access Gallery, a collaborative partner of CHAC Gallery:  March 8, 2014, 12:30 to 2:30PM, Workshop 3: Oh What a Relief It Is: Lead by professional artists Amy Odorizzi and Javier Flores, participants will explore jigsaw-relief-printing.  Using a variety of materials, students will create their own masterpieces around the theme of important people and places in their lives.
To learn more contact VSA Colorado/Access Gallery at 303-777-0797 or emailcris@accessgallery.org
Special Event Rentals
CHAC Gallery is a beautiful and vibrant space to rent for your next event.  We have two spacious galleries, one with a full kitchen, and an outdoor courtyard.  Our Gallery space is great for wedding showers, receptions, graduation or holiday parties, and fundraising events.
Contact Suzanne Martino, our Event Coordinator, to book your next event at 303-571-0440 or chacevents@gmail.com