April 2014 Events at CHAC Gallery
CHAC Presents: The 13th Annual Santos and Crosses Group Show
Announcing  the 13th  Annual group show of Traditional and Contemporary Santos and Crosses at the CHAC Gallery.
For generations Hispanic Villagers of New Mexico and Southern Colorado have created Santos, (Religious images of Catholic Christian Saints and biblical scenes). These were used in their homes, churches and private chapels to aid in worship and for adornment. The contemporary Santeros and Santeras of today continue this tradition in creating wonderful and meaningful artwork.  They still use many of the same material and methods their "antepasados" used.  The Santitos show will highlight wonderful examples of retablos, bultos, crosses and more from the region's top Santeros and Santeras.
The Show this Year will once again be held in the Month of April, from April 2nd to April 26th.  This year's participating artists will be: Gary Bellah, Lena Blea, Teresa Duran, Jose Esquibel, Lynn Fresquez, Vanessa Fresquez, Ronn Miera and Roberta Westrick, S.C.
Opening reception is Friday, April 4th
Special Presentation: "Traditional Santo Methods".  by Santera Teresa Duran.  Saturday April 19th at 1:00pm
More information please visit website: http://www.santitos2.weebly.com
CHAC Norte Presents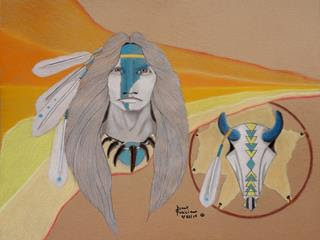 Frank Policiano is showing in the Front room of CHAC Norte!
Frank Policiano says, "Because I am self taught, my art is constantly in a state of discovery.  I have been told that there is a spiritual influence in my art work.  I enjoy creating art that can be enjoyed for the beauty or the spiritual influence.  Which I call the difference of expression."
Laying it on the line, a retrospective.  Rob Yancey aka el Guero Santero began carving Santos in 2007 as he began a Spiritual and Artistic evolution of culture and self.
Rebecca Rozales says,"I feel a spiritual vigor when approaching my art.  The process is like lovely melodies all playing in harmony".
Michael Penny, "A generous heart, kind speech and a life of service and compassion are things that renew humanity"-Buddha.
Jessica Bernal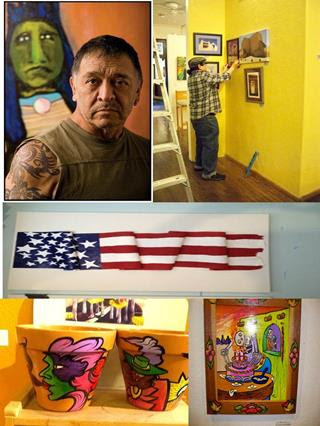 Robert Martinez relates this quote to his artwork, "Art must discover and reveal the beauty which prejudice and caricature have overlaid."  Alaine Locke
Joe Martinez has some new exciting pieces!  He is going to open the door for you to explore some of his new photographs; always top notch and thought provoking.
Dominic Domingo affirms "My artwork is a reflection of me."
We are excited to have the one and only Daniel Luna at CHAC Norte this month!
Announcing a New Adult Class on 4/11 – "Vino y Pintura" or "Wine and Paint"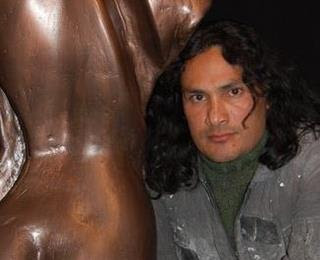 Our first class will be held on April 11th, 2014 from 6:30 to 8:30 PM.  The class will be held at our CHAC Norte Gallery and our First Instructor is CHAC Gallery Member and renowned artist/painter Rudi Monterroso.  The first class will be called "Sabor Latino" you will be painting a Flamenco dancer and enjoying Sangria and Tapas!
The class is only $40 and is limited to the first 24 people to RSVP. This includes all of your art supplies and a glass of sangria and tapas. You will leave with a beautifully completed painting of a flamenco dancer ready to hang on your wall!
Call CHAC Gallery at 303-571-0440 with any questions and to reserve your space at this amazing workshop today!
2nd Saturday Community Art Day: "Architecture, Exploration and Floor Plans"
Join us for our 2nd Saturday Community Art Day, April 12th, 2014, 12:30 to 2:30PM:  In partnership with CHAC Gallery, VSA Colorado presents "Architecture, Exploration and Floor Plans".  Lead by Professional Artists, participants will explore various architecture design, then using various mediums, students will create their own floor plan for their dream structure.
To learn more contact VSA Colorado/Access Gallery at 303/777-0797 or email cris@accessgallery.org
The Art of Selling Art!
Join us Saturday April 12th, 2014 for a brand new workshop geared towards artists called "The Art of Selling Art"
Workshop Facilitated by Artist CHAC Member Raphael Sanchez.  Raphael has had a successful art career spanning nearly four decades.  You will learn the art of selling your work, qualifying your prospective customers, building and maintaining relationship and closing a sale.
Time: 2:00 to 3:30 PM at our CHAC Norte Gallery 774 Santa Fe Drive Denver, 80204
Free for CHAC Members, $5 for non members
Call 303-571-0440 today to reserve your spot
Come Celebrate Art…Artist's…… and…Daniel Luna's 60th Birthday with us!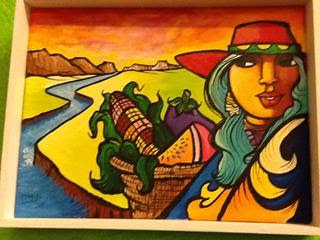 What: Pot luck celebration!  Please bring a dish to share.
Call 303-571-0440 to RSVP with what you are going to bring.

CHAC Gallery will provide the birthday cake!
When: Third Friday April 18th 6-9 PM
Where: 774 Santa Fe Drive, CHAC Norte Gallery
***Just by attending, you can register to win an original Daniel Luna hand painted flower pot filled with loads of garden items to get you stated planting for Spring!!!
Coming up in May!
Michael Heralda's Aztec Stories Spring Program Thursday, May 8th at 7:00PM:  Los Angeles performance artist and storyteller Michael Heralda, and his son Chi, will be presenting a very unique one hour performance program that shares indigenous knowledge from the Mexica/Aztec culture regarding the seasonal concepts of springtime- its meaning, symbolism, philosophical understanding, and ceremonial applications.  Through oral tradition stories, music, and narratives, audience members will be treated to an intimate view of indigenous women and men and their connections to the earth and nature.  For more information on Michael Heralda's Aztec Stories presentations please visit: Website:www.aztecstories.com
CALL FOR ENTRY: MIRA! (Look!) – Celebrating Chicano/Latino Culture Though Arts & Education
Please read the details of the Call for Entry on our website:
http://www.chacweb.org/2014/03/call-for-entry-mira-look-celebrating-chicanolatino-culture-though-arts-education/
Education Outreach Wish List
Good quality paint brushes
Acrylic paint
Sets of water colors
Non toxic pastels
Colored feathers
Decorative items : sequins etc
Paper plates
Yarn
Xerox paper
Printer cartridge (Check with Crystal or Suzanne for type)
Special Event Rentals
CHAC Gallery is a beautiful and vibrant space to rent for your next event.  We have two spacious galleries, one with a full kitchen, and an outdoor courtyard.  Our Gallery space is great for wedding showers, receptions, graduation or holiday parties, and fundraising events.
Contact Suzanne Martino, our Event Coordinator, to book your next event at 303-571-0440 or chacevents@gmail.com
CHAC Gallery Thanks our Sponsors!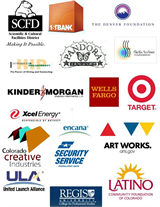 Thank you to our sponsors. Without you we could not serve over 25,000 people yearly!